Hial reports highest passenger numbers for four years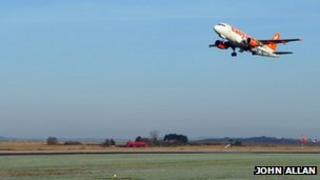 Scottish regional airport operator Highlands and Islands Airports Limited (Hial) has recorded its best passenger figures for four years.
The Scottish government-owned operator said 1.3 million passengers travelled through its airports in 2012/13 - a rise of 3.1% on the previous year.
The increase was achieved despite a slight drop in the number of flights operating at some Hial airports.
Hial also reduced its operating loss from £969,00 in 2011/12 to £896,000.
It said a milder winter and ongoing efficiency and cost-reduction measures had led to the improved financial performance.
Inverness was the busiest airport in terms of traffic last year, with 611,382 passengers.
Hial invested more than £8.4m in 2012/13 upgrading its 11 airports.
Capital projects
Capital projects included an investment of £1.1m at Campbeltown to refurbish the runway and create a new airport operations hub and £1.1m for runway repairs and the refurbishment of a hangar at Sumburgh airport.
The first phase of a £7m investment in 20 new fire tenders also got under way last year.
Hial chairman Grenville Johnston said: "The aviation industry has emerged from one of the most challenging downturns in its history.
"At Hial we have been working hard, with our airline partners, to provide a diverse network of routes, some of them lifeline, others more geared towards the business and tourism sector.
"Collectively, these routes play an important role in driving Scotland's regional economy."
Mr Johnston highlighted the introduction of new flights from Inverness to Geneva, as well as new Sunday flights from Glasgow to Campbeltown.
However, he said the withdrawal of key services at Dundee and in the Western Isles, and the threat to links between the regions and London, presented "ongoing challenges".