Aberdeen firm EnerMech announces plans for 700 jobs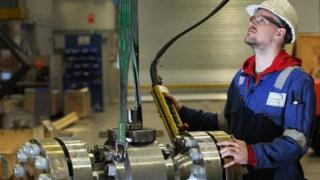 Scottish mechanical engineering group EnerMech has announced plans to create up to 700 new jobs over the next year, after securing a £90m funding package from a trio of banks.
The funds will be used to invest in new equipment and facilities and in growing its workforce from 1,800 to 2,500.
About 200 of the jobs will be based in the UK, including 150 in Aberdeen.
The rest will be spread between the Asia Pacific region, the Middle East, Africa and Norway.
The move is part of a global push by the company, which aims to boost revenues to £280m in 2014.
Aberdeen-based EnerMech said Norwegian bank DNB and HSBC had joined with original lender Bank of Scotland to form a "banking club", which would support the company's growth plans by consolidating its overseas banking arrangements.
The firm operates in 30 locations around the world.
Bank of Scotland will remain the lead bank and has refinanced a £60m package as part of the new arrangement.
Acquisitions
The funding move follows an increased investment earlier this year by private equity firm Lime Rock Partners.
The investment supported EnerMech's acquisitions of UK-based pump equipment specialist Total Reclaim Systems and Australian firm Vicon Services, which specialises in high pressure water-jetting, coating systems and chemical services.
To date, EnerMech has invested £30m on acquisitions and £80m on organic growth. It has put aside a further £15m for future acquisitions.
EnerMech finance director Michael Buchan said: "The size and international reach of our operation means we have now outgrown a single bank.
"By establishing a banking club we have a dual advantage of pooling the funds necessary to facilitate our projected growth and can also call on a wealth of global financing expertise."
He added: "This investment and the continued support or our original equity partner, Lime Rock, demonstrates the increased financial strength of EnerMech as it continues to grow both in the UK and international oil and gas sectors."