Bluefin Robotics buys Edinburgh software firm SeeByte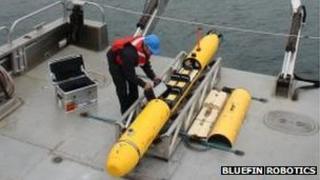 A US producer of autonomous underwater vehicles has bought Edinburgh-based smart software specialist SeeByte.
Bluefin Robotics, which is based in Massachusetts, did not disclose the terms of the transaction but it is understood to be a multi-million dollar deal.
SeeByte's software solutions are used in underwater sensors, vehicles and systems.
SeeByte will operate as a wholly-owned subsidiary of Bluefin.
The combined companies will offer a suite of products for remotely-operated and unmanned surface and underwater vehicles.
SeeByte runs offices in Edinburgh and California and focuses on the military and oil and gas sectors.
The deal will return significant funds to Heriot-Watt University, from where SeeByte was spun out in 2001.
David Kelly, President and chief executive of Bluefin Robotics, said: "Bluefin and SeeByte have worked together for more than five years developing software and capabilities for Bluefin platforms like the Hovering Autonomous Underwater Vehicle and Bluefin-21.
"Bringing these two companies together will allow us to bring integrated expertise in vehicle control, low-level vehicle to high-level mission autonomy, sensor processing, operator interface, and power subsystems to our customers."