Rics survey finds rise in house prices as demand grows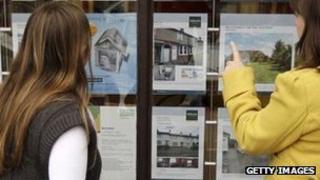 A lack of available properties and "burgeoning" demand among buyers has forced house prices up in Scotland, according to a monthly survey.
The Royal Institute of Chartered Surveyors (Rics) found house prices increased in September.
Last month, 32% more respondents reported prices rises rather than falls in the Rics survey.
A net balance of 78% more surveyors also reported an increase in new-buyer inquiries.
However, Rics said the lack of homes coming onto the market resulted in the number of new instructions failing to keep pace with the "burgeoning" level of demand.
Looking ahead, more than half of those surveyed expected prices to continue to rise in the next three months.
'Big concern'
Responding to the latest survey, Rics director Sarah Speirs said: "It's encouraging that the market is starting to improve in all parts of the country, with more buyers looking to make a move and more sales going through.
"Even so, it's a big concern that the supply of property coming to the market is lagging so far behind demand, particularly with the recent launch of Help to Buy in Scotland.
"This imbalance is likely to result in further upward pressure in prices over the coming months, particularly in popular areas."
The report comes as it was revealed that house prices in and around Aberdeen have more than doubled in the last decade.
Data from the Nationwide Building Society showed that the increase is only matched by Islington and Westminster in London.
The growth in the north east has been largely put down to the expanding oil and gas industry and the workers it attracts to the area.