Shearer Candles moves into China market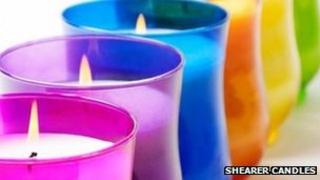 A Glasgow-based candlemaker has signed a distribution deal that will see its products on sale in China and Hong Kong for the first time.
Shearer Candles said it had signed an initial 12-month contract with distribution firm Azoya International.
Under the deal, thousands of lifestyle candles will be sent from Shearer's Govan factory to Beijing.
They will be sold online and in independent retailers and shopping centres across the country.
Shearer Candles sales director Jeremy Lane said: "This is a fantastic and exciting opportunity for us to break into a market that has so far proved difficult for our industry.
"Less than ten years ago, Chinese-made candles flooded the market in Europe, but now there has been a major swing which allows us to target over a billion consumers."
Shearer Candles was founded in Glasgow in 1897.
It started as a small company producing church candles, but now has two production lines at its factory in Glasgow which can produce up to six tonnes of candles every 24 hours.
Its exports markets include Europe, North America, Japan and New Zealand.