Housebuilder Cala unveils plans to double in size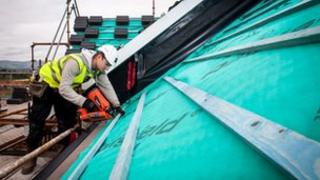 Housebuilder Cala has set out plans to double in size over four years by tapping into boom areas in its Scottish heartland and England's commuter belt.
Cala grew underlying profits by 37% to a record £12.5m in the year to 30 June after completing the sale of 694 homes at an average price of £335,000.
However, turnover fell by 5% to £240.8m.
In March, the Edinburgh-based business was bought by insurer Legal & General and private equity firm Patron.
Chief executive Alan Brown said the support of two blue-chip financial backers was key to the company's growth ambitions.
He added: "This investment has already begun to bear fruit and we are now able to develop land within our existing land bank at a faster rate while simultaneously seeking to acquire additional plots in high growth areas such as the east of Scotland and the south of England.
"This in turn is allowing us to take on more staff and open more sites."
Growth plans
Cala plans to increase development activity significantly in its heartlands in the east of Scotland and Aberdeen and to grow its presence in the south east of England, where it believes there is unmet demand for high quality homes.
The company said the seasonal slowdown in the housing market had been less prevalent this summer, with demand being boosted by the impact of the first stage of Help to Buy and continuing improvement in the UK mortgage market.
Cala targets the more affluent areas of the UK such as the Home Counties, the Cotswolds and areas around Scotland's major cities.
Lloyds Banking Group, which took control of Cala in a debt-for-equity swap in 2009 before selling the business this year, is continuing to support the company through a £100m five-year banking facility.
Cala, which stands for City of Aberdeen Land Association, has a land bank of more than 10,000 owned and contracted plots with a potential gross development value in June of £3.2bn.
It returned to profit in 2011, having been loss-making since 2008.