Grangemouth dispute: Ineos says Unite is 'fiddling while Rome burns'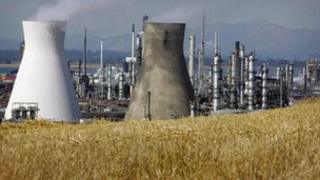 Ineos has accused unions at the Grangemouth oil refinery and petrochemical plant of "fiddling while Rome burns".
Workers have started an overtime ban and work to rule in a dispute centred on the treatment of a union convener.
Unite the Union has called for an emergency summit and parliamentary debate in a bid to avert strikes.
Ineos has warned the Grangemouth facility will close by 2017 if it does not find savings and fresh investment.
It said the site had lost more than £150m over the past four years.
Finance Secretary John Swinney said the Scottish government would make all efforts to bring both sides together to help resolve the dispute, and get to a position of financial sustainability for the plant.
Speaking on the BBC's Good Morning Scotland programme he said: "We have been talking to the company about how we might be able to invest to support the development of the plant.
"We can only make investment if there is a viable business proposition and that's where we need to have all parties working together to support a proposition that can deliver the employment and the opportunities that we want to see for the plant in Grangemouth, because of its very wider significance for the Scottish economy."
Emergency debate
Unite workers voted for the industrial action in support of Unite convener Stevie Deans.
He was suspended, then reinstated, by the company over allegations linked to his involvement in the row over the selection of a Labour candidate in Falkirk, where he is chairman of the local constituency party.
Mr Deans faces an investigation by Ineos over issues linked to the Falkirk row.
Unite have accused Ineos of trying to "provoke" a strike, which it warned would be "hugely damaging" to the UK economy.
A previous three-day stoppage at the site in 2008 was said to have cost hundreds of millions of pounds in lost production and other knock-on effects.
Workers have voted heavily in favour of action up to and including a strike - and Unite officials said they had not ruled out calling for a walkout.
Pat Rafferty, the union's Scottish regional secretary, said the company was using the Stevie Deans dispute as an excuse to introduce sweeping reforms, including pension changes, job losses, an end to collective bargaining and worse pay and conditions for new employees.
Unite called for a summit with the company and politicians, and urged the Scottish government to hold an emergency debate to help prevent the dispute escalating.
"The company is holding Stevie Deans hostage, and playing Russian roulette with fuel supplies," Mr Rafferty said.
"The changes being proposed are completely unpalatable to us and we feel we are being pushed into taking strike action.
"We are trying to make the company see sense, but we are not ruling anything out at this stage."
Survival plan
Unite said the work to rule and overtime ban would slow down maintenance work at Grangemouth, which is split into refinery and petrochemical operations.
Ineos has put forward a survival plan and has asked the Scottish and UK governments for grants and loan guarantees totalling £150m.
Chairman Calum MacLean has warned "there is no plan B".
Speaking on BBC Radio Scotland, Tom Crotty, group director with Ineos, said: "We have got a survival plan. We haven't been sitting on our hands wailing about it, we are doing something about it.
"What we can do is invest in new terminal facilities that will allow us to bring gas in from the US to replace the gas from the North Sea.
"But to do that we will have to put another £300m into a site that is losing £10m a month, and we will not do that unless we can sort out this cost base."
He added: "While this crucial issue is facing us, which will close the site before 2017 unless something is done, Unite are ignoring it and focusing on this issue about Steven Deans.
"It is frankly fiddling while Rome burns."
On Sunday, the company announced that one of its key customers in Hull, which traditionally took up to 100,000 tonnes of product from Grangemouth, had been forced to close down.
The Ineos Vinyl Acetate Monomer (Vam) facility at Saltend said that low cost imports into Europe had made closure inevitable.
Mr MacLean said: "Unfortunately the closure of this world-scale Vam unit at the Hull site has a significant knock-on effect at Grangemouth as we lose a major customer for good."