Ineos writes down Grangemouth assets to zero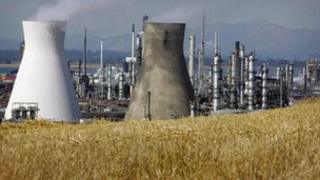 Chemicals firm Ineos has written down the value of its petrochemical assets at Grangemouth from £400m to zero.
The company said it had "no option" but to write down the value of property, plant and equipment at the site following repeated annual losses by the petrochemical business.
The move has come as members of Unite prepare to start a work-to-rule and overtime ban at Grangemouth on Monday.
The dispute centres on the treatment of a union convener.
In a statement, Ineos repeated that its site at Grangemouth would close by 2017 if they did not find savings and fresh investment.
The company said it had invested more than £1bn since taking over at Grangemouth in 2006 but the site had lost more than £150m over the past four years.
'No option'
Calum MacLean, chairman of the Grangemouth petrochemicals business, said: "We had no option but to write down these assets. After four years of heavy losses, the petrochemicals business is effectively worthless.
"Without lower costs and an alternative source of additional raw material, it will close in 2017 at the latest."
He added: "The petrochemical business at Grangemouth is at a crossroads.
"The current financial position is unsustainable and this write-down simply confirms the stark choices that we have ahead of us."
Workers at Grangemouth recently voted in favour of industrial action over the treatment of union convener Stevie Deans, who was also involved in the row over the selection of a Labour candidate in Falkirk.
Mr Deans, who is chairman of the constituency party, faces an investigation by Ineos over issues linked to the Falkirk row.