Arnold Clark Automobiles reports record £2.5bn turnover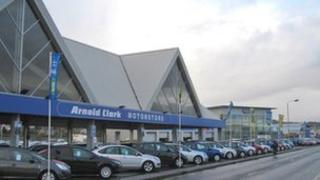 Motor dealer Arnold Clark Automobiles achieved record turnover of almost £2.5bn last year, after sales were lifted by a series of acquisitions north and south of the border.
The family-owned business also reported soaring pre-tax profits, which rose from £51.7m in 2011 to £60.5m.
The company sold nearly 80,000 new vehicles - 10.3% more than the previous year.
Used vehicle sales also rose, climbing by 4.6% to 122,400.
In accounts filed with Companies House, Arnold Clark reported turnover of £2.48bn, more than 10% higher than the previous year.
Fleet sales increased by 11.5% as a result of "significant contracts" gained over the year.
Acquisition trail
Arnold Clark's acquisitions saw the company increase its number of franchised outlets by 34 over the year.
In August last year, it bought the trade and assets of two Volkswagen sites in Wishaw and Rutherglen, and strengthened its position in north west England with the addition of Vauxhall branches in Kendal and Morecambe.
According to the company, its most significant acquisition of the year was the purchase of the John R Weir business.
The deal included five Mercedes Benz sites in Grangemouth, Perth, Dundee, Aberdeen and Inverness, as well as Smart sites in Perth, Inverness and Aberdeen.
Founder and chairman Sir Arnold Clark stated: "This long-established business offers significant potential to move forward with a prestige franchise, as well as adding Kia, Jeep and Chrysler representation in Perth."
Other acquisitions included a Vauxhall dealership and bodyshop in Blackpool.
'Modest growth'
Sir Arnold added: "Whilst the wider economic situation remains uncertain, the consensus in the motor industry is for modest growth in both the new and used retail markets.
"Our hard work and impressive results in recent years mean that we are confident about our ability to achieve profitable expansion, both organically and through strategic acquisitions.
"We have laid down strong foundations for growth and are fully committed to achieving our goal of being the UK's pre-eminent motor trader."
Sir Arnold is thought to be the best-paid director, with salary and bonuses reported to have risen from £1.93m in 2011 to just under £2.2m.