Teleperformance 'to create 1,000 Scottish jobs'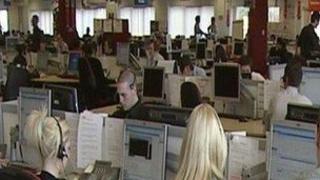 A Paris-based contact centre firm has confirmed it is to create up to 1,000 new jobs in Scotland.
Teleperformance said the jobs in Airdrie, Erskine, Glasgow and Kilmarnock would include customer service advisors, trainers and team managers.
The company said the announcement would see its Scottish workforce expand to about 4,000.
Some 621 of the jobs will be full-time positions in Glasgow.
The remaining 379 will be a mixture of full-time and part-time posts across the other sites.
The recruitment process was said to be already under way and will be ongoing for a number of weeks.
Teleperformance received £2.9m in Regional Selective Assistance to enable the expansion.
First Minister Alex Salmond welcomed the announcement, saying it was a "significant and welcome boost for employment".
He said the move "further strengthened Scotland's position as a leading destination for foreign and direct investment".
Alistair Niederer, chief executive of Teleperformance UK, Ireland and South Africa, said: "The current growth plans for Teleperformance in Scotland reflect a confidence in the future, not just for Teleperformance but for the clients we serve.
"This reflects the level of growth and confidence we are seeing in our business across the UK."