Profits warning hits audio chip maker Wolfson shares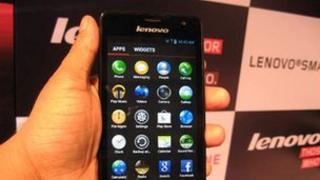 Shares in audio chip maker Wolfson Microelectronics dropped sharply in early trading after the company issued a profits warning.
Edinburgh-based Wolfson said revenues for the quarter to the end of September were broadly in line with expectations.
But it warned it expected lower revenues in the final quarter after an unnamed "major customer" cancelled some of its products.
Shares were down nearly 13% at 10:00 on Wednesday.
In a statement, Wolfson said it anticipated revenues for the third quarter to be about $44m (£27.1m).
But it said a decision by a major customer to cancel some Wolfson products, coupled by delays affecting "key programmes" with other customers, meant final quarter revenues were expected to be in the range of $40m - $50m (£24.5m - £31m).
Wolfson added: "The company anticipates that the overall impact of these developments on Wolfson's revenue will be mitigated in 2014 as other customer projects ramp.
"Wolfson continues to see strong widespread traction at all other major customers, especially for its new Audio Hub and MEMS microphone products where design-in activities are progressing well."
In July, Wolfson announced it had narrowed its losses and seen a 32% growth in revenue.
In the first half of the year, the company made a loss of $8.8m (£5.7m) compared with $11m (£7.1m) in 2012.
During the period the group signed contracts with Samsung, Lenovo and Sharp.
The growth in revenue was not as strong as expected after a slowdown in sales of some Samsung products.