Rangers burns through the cash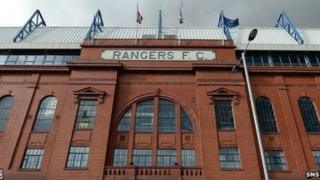 The £14m loss for Rangers International Football Club is big, but not that surprising. In its unhappy circumstances, it was hardly going to turn a profit.
The Ibrox management is claiming it made a profit of more than £1m on "ordinary activities", though not even they are taking it seriously. That's the figure that strips out anything nasty. And in what way has anything been "ordinary" at Ibrox recently?
The question now is whether the club's on course for recovery, or for more financial turmoil. The most important element in answering that is that it holds the loyalty of the fans, more than 35,000 of whom have bought season tickets last year and this. That's a useful starting point, not least when other sources of income have fallen sharply.
Ibrox hospitality prices were cut by a third, but sales still reduced, with income down by more than half. Much of this was within the club's expectations, it says, but not the decline in retail. The end of its JJB contract has been messy, with stock problems, but it's now more optimistic about the tie-up with Sports Direct.
Ibrox security solutions
The comparison with the 2009-10 accounts show what's happened through the traumatic years for Ibrox. Back then, a strong year for income from European games, commercial income was £22m. In the most recent figures, it was at £1m, plus £800,000 for sponsorship.
Back then, turnover was £56m. It's fallen to £19m. But expenditure hasn't fallen nearly as fast. Three years ago, it was £44m. It's now nearly £34m.
Those figures give you the simple explanation for the loss. A more complex one, highlighted by the club, is that there were a number of one-offs; costs of raising funds, legal and professional adviser costs of the transition, the legal bill for fighting claims made by former owner Craig Whyte, paying off former players and their agents (£1.7m). The one-off elements add up to £4.2m, according to these accounts.
The new management has also spent some of the funds its raised in the past year, as an investment to help provide a platform for future growth, from the neighbouring car park and office block to new wifi kit and screens with which to boost advertising income on Ibrox match days.
And it's looking for new income sources. Having taken its security in-house to save money, it's now generating money, and Ibrox is offering a Rangers security service to other football clubs.
Third tier
But it's the recurring expenditure that looks least like a third tier club. The player bill has come down from £30m to £18m (I'm doing some rounding-off with these figures). Yet the non-playing staff remain rather pricey. The headcount is down by only 15, to 196. Of them, 50 are players.
And unusually, Rangers spends more on non-playing staff than on the squad. The total pay bill is £18m, with first team wage bill below £8m. One of those not playing but earning rather a lot has been Ally McCoist. The manager is valued not only for his management skills, but for keeping those fans loyal. He trousered £826,000 in the 13 months to June.
Charles Green also walked off with a handsome salary and pay-off, when he ceased to be chief executive. The accounts say he got £933,000. That includes £360,000 in bonus and £218,000 in severance pay. That was most of the £1.6m paid to directors.
Those payments are likely to feature among questions to directors when Rangers holds its annual general meeting on 24 October. But fans/investors will also want to know where the £35m of funds raised have gone, £22m of them from the public offering last December.
Spending habits
With the start of ticket sales for the current seasons, there was £11m in the bank on 30 June. If you strip out the one-off costs, and look at the flow of cash through the Ibrox coffers, Neil Patey, football finance analyst with EY reckons Rangers is burning through £600,000 per month.
That means it's under no imminent threat. In contrast with recent times at Ibrox, it probably feels pretty good to have £11m at your disposal, and no bank debt.
But if nothing else changes in its spending habits, Rangers will run out of that cash some time in the middle of next season, when it hopes to be in the second tier and challenging for promotion into the premiership.
It's with that in view that it has kept spending on its player squad, to make sure that it's prepared for competition at the top flight of Scottish football once more, and hopeful of a return to Europe.
But ahead of then, don't be surprised if the management come back to their shareholders for more funds to see Rangers through its five-year recovery plan.
Indefinitely useful
A final observation on these accounts. They give a valuation on the value of the Rangers business. You'll surely recall that Charles Green led a buyout of the assets for £5.5m last year. Some thought he was getting it for far too little. But you have to remember that any asset is only worth what someone will pay for it on the day it's sold, and no-one else was willing to compete with Charles Green's offer.
With some professional valuations, Rangers now reckons that the club's worth a bit more than £27m. While Ibrox and the Murray Park training ground would cost £79m to replace, their market value is put at £6.5m, with player registrations at £3.6m.
But while fans are willing to spend on it, it's the Rangers brand that's worth most. With a valuation of £16m, it's what the auditors describe as an asset with "an indefinite useful life".