Scottish Power warns over Ed Miliband's bills pledge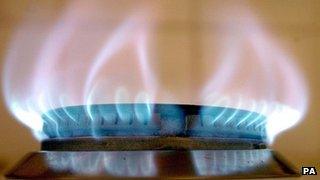 The head of energy giant Scottish Power has warned that plans by Labour leader Ed Miliband to freeze utility tariffs could affect its "appetite to invest".
Last week Mr Miliband pledged gas and electricity bills would not go up for 20 months if he won the 2015 election.
But Spanish-owned Scottish Power's chief corporate officer, Keith Anderson, said the investment Britain needed still had to be paid for.
He was responding to a letter from Mr Miliband to the "big six" energy firms.
In his letter, the Labour leader warned that without market reforms, taxpayer-funded guarantees to energy firms might not be sustainable.
Mr Miliband told his party conference last week that firms had been "overcharging" customers for many years and millions of households would benefit from the temporary cap on prices at a time when many were struggling to heat their homes.
Several energy firms responded by warning that a price freeze could put future supplies at risk.
In Scottish Power's response to Mr Miliband's letter, Mr Anderson said the "relatively stable and predictable regulatory environment" in the UK had led the business to plan investments of £4bn for 2012-2014.
'Doubts and fears'
In the longer term, he said, the group had investment plans worth up to £15bn in the UK, including spending on its distribution and transmission networks, which together would lead to the creation of up to 4,500 new jobs.
Mr Anderson wrote: "As you made clear as energy secretary under the previous government, consumer bills are likely to rise for the rest of the decade as we meet the challenges of decarbonisation and modernising the energy system.
"It is decisions about the pace of that decarbonisation and modernisation, and about the scale of social programmes, together with developments in world markets, that will define the future path of energy prices in Britain.
"Any move to freeze all domestic bills will not alter the fact that the investment Britain needs still has to be paid for.
"To the extent such a freeze would cause investors to doubt that they will receive an adequate return or to fear future similar interventions, those doubts and fears would be reflected in the appetite to invest."