Warning over construction industry skills shortage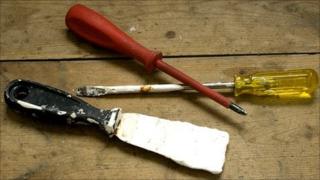 The construction industry is facing a growing shortage of suitably skilled managers and supervisors, according to the Scottish Building Federation (SBF).
Its quarterly Scottish Construction Monitor has recorded a 31 point improvement in confidence, compared with 12 months ago.
This is the fifth consecutive period of improving industry confidence.
But the federation said the skills shortage could create "real challenges" for employers.
It found that 90% of employers seeking to recruit managerial staff externally reported "significant difficulties" with finding suitable candidates.
SBF Managing Director Vaughan Hart said: "After such a prolonged downturn in the fortunes of the construction sector, it is very encouraging to see a significant improvement in confidence amongst our members and a positive rating overall.
"It is also pleasing to see projections that the number of managerial and supervisory staff the Scottish construction industry employs will increase significantly over the next three years.
"At the same time, cash flow and a lack of certainty about the future work pipeline remain key obstacles to further investment in training and development for many firms."
Mr Hart identified the lack of experienced senior staff as a difficulty for the industry.
He added: "This could create real challenges for the industry as the recovery gathers pace."
David Smith, Joint Managing Director of Ashleigh (Scotland) Ltd, said: "Managing the industry's recovery requires careful planning to ensure we have the skills and resources in place to cope with expanding demand.
"Government and industry need to work together to address persistent problems of cash flow and uncertainty around the future work pipeline that are hampering investment in skills and training.
"We also need to work hard to attract more people with managerial potential and experience into the industry."