Scottish Help to Buy scheme unveiled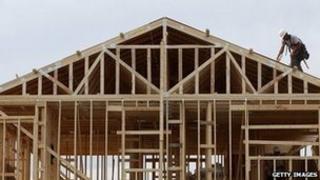 The Scottish government has unveiled a new shared equity scheme designed to help people get onto and up the housing ladder.
Ministers are allocating £220m over three years for the Help to Buy (Scotland) scheme.
It will help eligible buyers with an equity loan of up to 20% of the purchase price of a new-build home.
Housebuilders in Scotland said the scheme could be a "game changing initiative" for the industry.
The Scottish initiative is similar to the UK government's Help to Buy scheme, which has been operating in England since April.
From Monday, the scheme will be open to all first-time buyers and existing homeowners who are buying a new-build home from participating home builders.
The home must be a buyer's only residence and they must not own another home.
An eligible buyer will be expected to contribute a minimum of 80% of the cost of the new-build home.
The shared equity scheme will apply to homes worth up to £400,000 in Scotland. The limit in the English version of Help to Buy is £600,000.
The progress of the Scottish Help to Buy scheme will be monitored by a group including Council of Mortgage Lenders and housebuilding industry body Homes for Scotland.
Deputy First Minister Nicola Sturgeon said: "There is no doubt that getting onto or moving up the property ladder has become tougher in recent years.
"House buyers are being hampered by the lack of affordable mortgages, with high deposits often a major barrier.
"The Help to Buy (Scotland) scheme will not only help people to buy their first home, it will also help 'second-steppers' and others move to a new property.
"The scheme will also help support the housing industry alongside our commitment to investment in affordable housing across Scotland."
'Keenly anticipated'
Homes for Scotland said it "keenly anticipated" the initiative would stimulate an increase in the supply of new homes.
Chief executive Philip Hogg said: "Increasing the range of options available to purchasers, we believe Help to Buy (Scotland) could be a game changing initiative, acting as the required catalyst to help reverse the downward trend we have witnessed in home building over the last five years."
The Council of Mortgage Lenders also welcomed the scheme.
Director general Paul Smee said: "Working with the Scottish government, lenders want to ensure it helps people in Scotland.
"Lending to Scottish borrowers reached its highest level since 2008 in the second quarter of this year, and with schemes like help-to-buy, conditions are improving for home-buyers."