Bank of Scotland business monitor shows surge in Scottish economic activity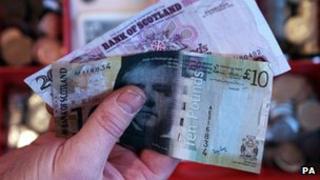 Economic activity in Scotland has returned to pre-recession levels, according to a survey.
The Bank of Scotland said its latest quarterly Business Monitor showed the best results for six years.
It predicted that, if the surge in economic activity experienced over the summer continued, the Scottish economy should record a year of growth for 2013.
There was a "substantial improvement" in turnover, according to the research.
Of the firms surveyed, 45% reported turnover had risen over the period of June to August this year, while 22% experienced a decline.
Subtracting the firms who had a fall in turnover from those who had a rise gave a net balance of +23%, up from -8% in the previous three months and the best results for six years, returning the total for this to the pre-recession levels of 2007.
For firms in the production sector, the net balance for turnover for the three months to the end of August was +24%, compared with -5% in the previous quarter.
The service sector also saw a similar improvement, with the net balance for turnover going from -10% to +22% in June to August.
Of the firms surveyed, 45% said their total volume of business was up in June to August, with 21% reporting a drop.
Four out of 10 businesses surveyed said they saw an increase in the volume of new business and a quarter of companies experienced a rise in volume of repeat business.
But more firms suffered a fall in export activity than experienced a rise in overseas sales. Export activity rose for 22% of companies surveyed, but decreased for 23% giving a net balance of -1%.
This, however, was the only negative trend in this latest survey.
A total of 32% of firms surveyed said they expected their volume of business to rise in the next six months, compared with 13% who expect it to fall.
While just over half (53%) of firms expect turnover to remain static in the next six months, a third expect their turnover to rise, while 14% are anticipating a fall.
'Positive results'
The bank's chief economist, Donald MacRae, said: "The tentative rise in confidence identified in the previous Business Monitor has been realised with achievement in summer this year of the best quarter's results since 2007.
"The summer months have seen a surge in economic activity to pre-recession levels accompanied by rising business expectations for the remainder of the year.
"If it continues through to December, the Scottish economy should record a year of growth in 2013. Consolidation of the recovery would be enhanced by firms increasing investment."
The figures were welcomed by Finance Secretary John Swinney who said they showed that the Scottish economy was continuing to strengthen.
He added: "These positive results follow recent labour market and GDP figures which show Scotland is outperforming the UK in terms of employment and growth.
"Youth employment figures also continue to outperform the UK. Against a backdrop of continuing economic challenges the Scottish government is taking action where we can, and we are seeing results, but there is much more that we could be doing with the economic and fiscal powers of independence to strengthen our economy and create jobs."
Scottish Labour's finance spokesman Iain Gray said: "We welcome any good news about the Scottish economy and increases in turnover, recruitment and growth are all good signs. But we have a duty to look beyond the headline figures to ensure everyone benefits from this recovery.
"A recovery built on zero-hour contracts and temporary jobs will not bring about the long-term, sustainable growth that allows us to create the kind of Scotland we aspire to. Too many Scots are still missing out on the opportunities they deserve."