Dating firm Cupid reports losses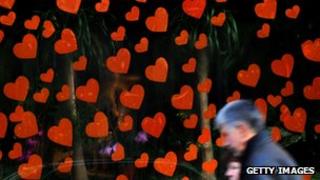 Online dating firm Cupid has reported a half-year pre-tax loss of £2.8m on the back of higher marketing and administrative spending.
Revenues increased from £38.6m to £43.4m - a rise of 12%.
The company said marketing spend, its largest cost, increased by 18% to £27.4m and administrative expenses rose by nearly 60% to £4m.
Cupid sold part of its business earlier this year and said that sum would be reflected in its next set of results.
The "casual dating" part of the company was acquired by one of the firm's co-founders in a deal worth £45.1m.
The group said the disposal gave it the "resources and focus to execute our strategy for the growth of our retained business".
Cupid continues to operate a number of mainstream and niche dating sites, including Cupid.com, Amour.com, UniformDating.com and Canoodle.com, as well as a number of international sites.
Chief Executive Bill Dobbie said: "We have had a number of distractions in the first half of 2013, however, we have commenced a streamlining and refocusing of the business, which will provide us with an excellent opportunity going forward to take more of the opportunities the sector has to offer.
"We have a robust business and strong brands upon which to build."
He added: "The remainder of 2013 will be a transitional period as we complete the separation of the divested casual assets and reshape our continuing business for the future."
Cupid said it expected its business to return to growth and profitability in 2014.