Port Edgar Marina's future secured by new lease deal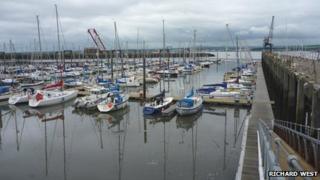 The future of the largest marina on the east coast of Scotland, Port Edgar, has been secured after being taken over by a private developer.
City of Edinburgh Council said it had agreed a new 30-year lease with Port Edgar Holding Ltd, starting from April.
The firm has promised to spend £1.2m on improvements over the next five years.
In 2011, Edinburgh Leisure announced it would stop managing the marina at the end of March next year.
'Too expensive'
The council arms-length body, which started running the site in 1998, said at the time it had become "too expensive" to run.
Port Edgar Holding said they were planning to undertake dredging work, which should make the marina less dependent on the tides and be able to accommodate larger vessels.
City of Edinburgh Council's culture and sport convener, Richard Lewis, said: "This is a welcome step forward for the Port Edgar Marina and secures the future of this important sailing facility.
"We're very much looking forward to working with Port Edgar Holding Ltd as the new lease holder and the council will be working closely with them over the next few months to finalise the detail in advance of the handover."
In a separate development, Portavadie Marina at Loch Fyne has announced an expansion of its boatyard as part of continuing development programme.
Marina manager Craig Cochran said: "Over the last few weeks the yard has been though a lot of heavy plant pecking, digging and moving rubble around to extend our boatyard.
"We have pushed back into the hill and we now have hard standing for approximately 50 boats and we are expanding other areas of the marina too."
Millions of pounds have been spent in recent years at Portavadie on a marina, boatyard, shore facilities, a restaurant and holiday accommodation.