Grangemouth petrochemical plant closure warning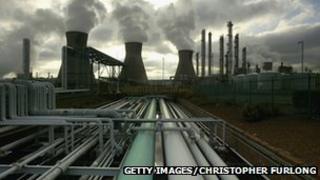 The owners of the Grangemouth petrochemical plant have warned it faces closure by 2017, if it continues to lose more than £100m a year.
Ineos chairman Calum MacLean said the plant would have to shut if the company failed to reform its cost base and secure a new source of raw materials.
The firm is looking to fill a £200m hole in its pension fund and has called its pension costs "unsustainable".
Mr MacLean has described the chemical plant as being "at a crossroads".
In a statement, Ineos reported that North Sea gases, used as raw materials by the petrochemical site, had declined by 60% in the past 10 years.
This meant Grangemouth needed "major investment to land gases from the US".
The company said: "Ineos has successfully invested in new infrastructure at its Rafnes site in Norway, allowing it to bring in gas from the US from 2015.
"The company would like to do the same thing at Grangemouth but the site's lack of competitiveness makes the necessary investment impossible, without change.
"Ineos has invested over £1bn since taking over at Grangemouth in 2006 but - despite this investment - the company has lost over £150m each year for the last four years. Losses continue today at over £10m per month."
It added: "The site pension scheme is now around £200m in deficit and pension costs are at an unsustainable 65% of salary."
Strike ballot
Meanwhile, staff at the attached oil refinery at Grangemouth are being balloted for strike action by the union Unite.
The ballot was called over a dispute relating to the use of temporary workers and a disciplinary case against a union organiser.
The union said it feared the closure of the petrochemical plant could spell the demise of the 210,000 barrel per day refinery, which is jointly owned by Ineos and PetroChina.
Unite union vice-chairman Mark Lyon said: "It would undermine the viability of the refinery, as it's shown all over the world that there are many benefits when there is integration."
According to the union, some 700 people are employed at the chemical plant and 500 at the refinery.
Unite sent out strike ballots on Friday to its members at the oil refinery. Votes will be counted on 27 September.