Bus firm Alexander Dennis issues warning over strikes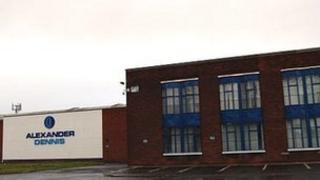 Bus and coach builder Alexander Dennis Limited (ADL) has suggested it may move production away from its Falkirk base, as staff prepared to start the first of two 48-hour strikes over a pay dispute.
About 600 staff at ADL's factory in Camelon are expected to strike after pay talks with Acas broke down.
But the firm warned it would "have a clear impact" on its future strategy.
A senior ADL figure added the company would "have to look seriously at where we build vehicles in the future".
Strike action is being taken by members of the Unite union after last-ditch talks over pay broke down.
Unite has been pressing for a 4% pay rise but the company has offered 3.5%.
The union said about 600 of the 800 staff based at the ADL factory would take part in the action.
The first 48-hour strike is set to start at 06:00 on Thursday and end at just before 06:00 on Saturday. A second strike is due to get under way at 05:54 on Sunday and end at 05:54 on Tuesday.
An indefinite overtime ban is already in place.
The Falkirk-based firm, which employs about 2,400 staff in the UK and abroad, reported a 56% rise in pre-tax profits to £24.2m in July.
Unite official Lyn Turner said, "Unite went to Acas in good faith and hopeful that common sense would prevail with the agreement of a 4% pay increase - a relatively modest sum given the company is revelling in record profits.
"Instead the justifiable expectations of the workers, the people who collectively transformed the fortunes of ADL only four short years ago, were met with arrogance and belligerence leaving us with no other option but to commence a first wave of strike action."
'Very fair deal'
A senior company official, who did not want to be named, said: "We have offered a very fair deal. Effectively it represents a 15% rise on a compound basis over four years.
"There is no other UK manufacturing company, to my knowledge, that has offered a wage anywhere near that.
"An average bus vehicle builder at the company earns £32,000-plus a year.
"Obviously this (action) will have a clear impact on our forward strategy and we will have to look seriously at where we build vehicles in the future."