Buyer sought after Ballantine Bo'ness ironworks folds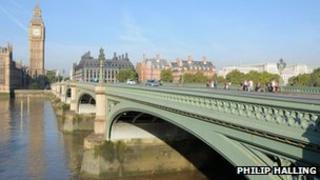 An ironworks that was owned and run by the same family for more than 150 years has been placed in administration, putting at risk dozens of jobs.
Administrators are now seeking a buyer for the Ballantine Bo'ness Iron Company and Ballantine Engineering.
The interlinked businesses, based in Bo'ness, supplied structural and ornamental ironworks around the world.
Administrators BDO said eight of its 73 staff had already been made redundant.
The ironworks was founded by the Ballantine family in 1856.
The business has produced ironworks for a number of high-profile projects such as the replacement of fascia panels on the historic Westminster Bridge in London and the restoration of the North Bridge in Edinburgh.
'Niche market'
Joint administrator Anne Buchanan, from BDO, said: "This is a well-regarded, long-established business operating in a highly specialised manufacturing market.
"Although the companies produce mainstream iron products such as gates and railings, bridges, street furniture, fountains and other items, this remains a niche market.
"There has already been some interest in the businesses but it is still very early on in the process."
She added: "We are working with management and staff to ensure that everyone remains informed of what is happening and the likely outcome of the administration.
"This recession has affected many well-known, long-running businesses and, unfortunately, the Ballantine Bo'ness companies are the latest to succumb to the economic downturn."