Scottish dairy sector review urges exports drive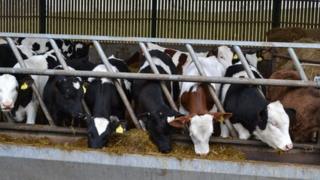 Scotland's dairy producers should expand into international markets to end reliance on UK sales, according to a review of the industry.
The recommendation is one of 19 made to the Scottish government in a report setting out routes for growth by 2025.
The review was led by Scotland Food and Drink chief executive James Withers, who found more than 90% of Scottish dairy products were sold in the UK.
He said exploiting export opportunities was an "economic imperative".
Mr Withers argued that the sector was hugely over-exposed to a few large customers, and increasing exports would strengthen returns for the industry.
Added-value products
He wrote: "The export focus must be on added-value premium products; Scotland cannot and must not seek to compete in large-volume markets.
"It is also worth noting the significant and growing market worldwide for health-enhancing foods.
"The health benefits of milk consumption are proven but there is still huge scope for innovation in dairy to develop new products for this multi-billion pound market."
Mr Withers also called for the development of an independent Scottish dairy bureau to provide information, advice and training.
The report recommended that the structure of dairy producer groups should be formalised and a new leadership structure should be developed for the sector.
Mr Withers said: "I was optimistic about the prospects of Scotland's dairy sector before I started this review, but I am even more so now.
"I believe by 2025 we will see a transformed industry in this country. It is one which can significantly grow its output, by up to 50%, as a direct result of creating new, added-value markets."
Mr Withers stressed that a lot of work was required, including commitment to the new agenda from producers, dairy companies and their representative bodies.
He added: "Scotland does not lack the quality of raw materials to achieve this growth.
"Our people, our environment and raw materials are the envy of most countries."
Rural Affairs Secretary Richard Lochhead said he would look at the report and formulate a plan over the next few weeks to help support further growth of the sector.
He added: "There is huge potential for Scotland's dairy industry to become a global leader and we should look to explore any avenue and opportunity that is open to us."