Broadcast hire firm Procam expands into Scotland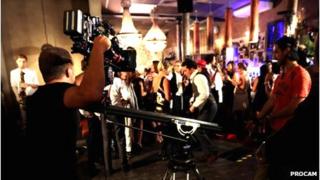 The UK's largest broadcast hire company, Procam, has expanded its operations into Scotland by buying rival Hammerhead TV.
The announcement marks Procam's first acquisition since the company's successful management buy-out in May this year.
The deal was backed by private equity firm Foresight Group.
Hammerhead TV runs offices in Glasgow and Edinburgh, as well as London and Manchester.
Since 1988, it has provided crew and equipment for shows including The Secret Millionaire, Britain's Next Top Model and Dragon's Den.
London-based Procam said the acquisition would see it expand into Scotland while strengthening its existing operations in London and Manchester.
Preferred supplier
Procam provides camera equipment and crew to broadcasters, production companies and blue chip organisations throughout the UK and abroad.
It is a preferred supplier to BSkyB and an approved supplier for BBC and ITV.
Procam has worked on award-winning shows such as E4's Made in Chelsea, Channel 4's Derren Brown and Watch's Dynamo: Magician Impossible.
The company has reported rapid growth over the last four years, with revenues doubling following the introduction of new camera formats. Its annual turnover stands at £6.5m.
Procam group chief executive John Brennan said: "Our customers tell us they want a consistently high level of service and equipment, wherever they're filming.
"We're on a mission to make that a reality and today's news shows how we're investing to extend the reach of the Procam offer across the UK.
"Together with organisations like Creative Scotland, we're confident we can make Scotland an even more attractive option by delivering a first class infrastructure for broadcasters and production companies."