Alstom devices deal for Sound of Islay tidal array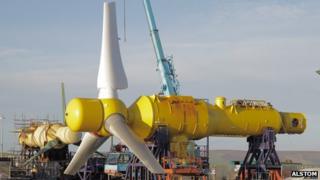 Scottish Power Renewables has announced it will install several tidal devices made by engineering firm Alstom at its major Sound of Islay project.
It follows the signing of a memorandum of understanding between the companies.
The tidal array, between Islay and Jura on the west coast of Scotland, will include up to four Alstom devices and four Andritz Hydro Hammerfest turbines.
The Islay development will be capable of generating up to 10MW of electricity in total.
Scottish Power Renewables applied to Marine Scotland to build the Sound of Islay project in July 2010 and were given clearance in March 2011.
'Major benefits'
Scottish Power Renewables UK managing director Simon Christian said: "The addition of Alstom to the Islay project signals major benefits for the future growth of the tidal energy sector.
"Islay will now permit the two leading tidal power technologies to be proven side by side and to take them both to the point of commercialisation.
"This move further cements Islay's credentials as the world's leading marine energy project, and by ensuring that the two leading technologies are developed in Scottish waters it considerably strengthens Scotland's global lead in this sector."
He added: "This move will also broaden the opportunities for the wider Scottish supply chain, helping to maximise local benefits and support government ambitions to kick-start a new industry here."
The Islay programme remains on schedule for the first unit to be deployed in late 2015, with full site deployment during 2016.
Operations are planned for 25 years and the demonstration project is anticipated to be the launch pad for future larger scale sites around the Scottish coast.
Scottish Power Renewables is already working on plans for a potential 95MW tidal project off the north coast of Caithness at Duncansby.