The economy's bumpy take-off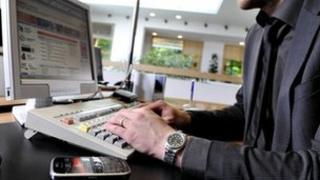 Five years on from calamity, and the recovery's under way, at last. The political battle is over who can take credit for that. And all's well with the world.
Well, not quite. We've had successive weeks of upbeat numbers, showing business and consumer confidence is returning. But it remains a bumpy, lumpy and uneven recovery. How could it not?
Last week, barely had we got used to the idea of recovery taking hold than we were being warned of the house market overheating, at least in south-east England, and helped by government encouragement of loose lending. A familiar tale.
Today's batch of data give us more upbeat sentiment from Scotland's recruitment consultant, via the Bank of Scotland's monthly monitor.
Donald MacRae, the chief economist for Bank of Scotland, has been one of the more eager seekers for positive signs that recovery might be getting under way, and he's now got plenty such material to work with.
Confidence up, but...
But the Federation of Small Businesses has delivered a rather different take on the fairly large chunk of the economy which they represent.
Yes, its members' confidence is clearly up... but...
More companies expect profits to fall than see them rising. Only three firms out of 10 plan to boost capital investment. And slack in their operations and productivity has been such, for so long, that the new orders are not feeding through to much sign of a recruitment surge.
See what I mean about bumpy? And that lack of capital investment is underlined in a report from the CBI, working with accountants KPMG.
CBI members are among those corporates hoarding colossal amounts of cash, with little eagerness to go out and spend it.
But today, it's targeting the UK government for a poor record of infrastructure spend, or at least of delivering on promises of such budgets. And the criticism extends to the Scottish government.
We're back with that "shovel-ready" problem. It's not that easy or fast to move from despatch box announcement to cutting turf.
Trains, planes and automobiles
The CBI/KPMG survey, of more than 500 companies, suggests there are high levels of dissatisfaction with roads, rail, aviation links and security of energy supply. Broadband is not so bad, but there are low expectations the other bottlenecks are going to get sorted in the next five years.
Only 31 Scottish companies were included in this, so bear that small sample in mind when you consider that nearly all of them registered concern about energy supply.
Most were positive about the roll-out of broadband cable, but much less so about mobile speeds. Few have seen any recent improvement in rail, and they don't sound happy about the doubts over high-speed lines.
Jenny Stewart, of KPMG, explained the problems emanating from the Scottish government. She says the stress on infrastructure has been right.
"But here too progress on the ground has been painfully slow in key areas, " she says. "Tucked away in an annex to last week's Scottish Budget, was a revealing table showing delays in all 10 of the flagship NPD (Non-Profit Distributing) projects and programmes.
"The first project will not now be open until 2014 - even though the NPD programme was first announced in 2010, when many of the projects were already at an advanced stage of development."
Tackling inequality
Also unwelcome in St Andrew's House this morning will be the latest research finding from Professor David Bell. The Stirling University economist shares with Scottish ministers a concern about - or at least an academic interest in - the high level of inequality seen in this country.
So he's looked for the best way of tackling it through tax and benefit. And he's concluded that the powers to do so already reside at Holyrood.
Professor Bell reckons the means of addressing that problem with least harm done to growth is by widening the amount due at different bands of council tax.
That is, getting those in bigger houses to pay a bigger share of the total, and those in the less valuable homes to pay a smaller share.
As Paul Johnson of the Institute of Fiscal Studies has observed, council tax is highly regressive, as if putting a lower tax rate on a Ferrari than on a Vauxhall Corsa.
It doesn't help, either, that the council tax valuations are now 22 years out of date. Not many 1991 Ferraris or Vauxhalls are still on the road, but the hastily-devised replacement for the poll tax is still trundling along.