Scottish shops see decline in footfall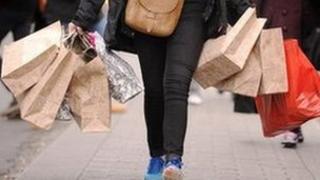 Fewer people hit the high street in Scotland last month, with new figures showing a small decline in the number of shoppers.
Springboard and the Scottish Retail Consortium (SRC) said footfall was down 0.3% in August compared with the same period last year.
The drop in shopper numbers was better than the 0.9% reduction experienced across the UK as a whole.
It also marked an improvement on the 1.3% decline in footfall in July.
Fiona Moriarty, director of the Scottish Retail Consortium, said the latest figure was in line with encouraging sales growth in August and a "significant uplift" in consumer confidence.
"Shopper numbers are marginally down on the previous year, but it's a complex comparable as the Olympics saw many of us out and about while others reduced their shopping trips to fit round watching the Games," she said.
"The signs are that confidence is gradually returning in our high streets and town centres.
"Retailers will be hoping that this tentative momentum starts to build as they start gearing up for their all-important Christmas campaigns."
'Lack of uplift'
August shopper numbers were down across the UK year-on-year, with footfall falling 1.5% in Northern Ireland and 2.7% in Wales.
The north of England and Yorkshire was the only region to report a growth in shopper numbers, with both recording a 0.1% rise.
Diane Wehrle, Springboard retail insights director, said: "Somewhat surprisingly given the continuing hot weather, footfall declined by 0.9% in August, which is the most significant drop since March.
"Despite this, over the quarter footfall has been stable compared with the previous quarter when it dropped by 1.9%, and by 2.5% over the same quarter last year.
"Given the increase in sales in August, the lack of uplift in footfall indicates that the number of customers visiting our retail locations is remaining steady in overall terms but they are spending more.
"The footfall performance of retail parks clearly reflects the fact that home products were the best performers in sales terms in August, which may well have deflected footfall away from high streets and shopping centres."
She added: "In overall terms, however, the results for August indicate an increasing degree of stability in the performance of retail locations."