Rangers' parent firm shortens its accounting period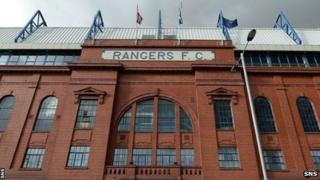 The Rangers International Football Club Plc has shortened its accounting period from 30 November 2013 to 30 June 2013.
Documents lodged with Companies House showed all future accounting periods will now end on this date.
Similar documents were also filed for its subsidiaries, Rangers Media Ltd and Sevco Scotland Ltd.
The annual return document filed for Sevco Scotland Ltd - the company that bought Rangers' assets after its 2012 financial collapse - was incomplete.
Sevco Scotland Ltd changed its name to the Rangers Football Club Limited in July 2012.
Rangers International Football Club Plc's (RIFC) interim financial results were published in March and the shortening of the date will now bring it in line with almost every other football club in Scotland.
Assets purchase
Sevco Scotland Ltd was the company that acquired the assets of Rangers Football Club PLC last summer after the company formally entered liquidation proceedings, but Sevco's annual return was due to be filed by 26 June and was only registered with Companies House on 12 September.
The document was dated 29 May and contains no details of shareholding during the return period from the company's date of incorporation.
The annual return document normally provides details of the identities of company shareholders, which, in this case, would indicate who owned shares in Sevco Scotland Ltd before its acquisition by RIFC.
The document lists officers of the company, including Charles Green, Brian Stockbridge and Craig Mather, but has no details of individual or group shareholdings.
RIFC's statement of annual accounts - including details of any wholly-owned subsidiaries - requires to be published a month before the company's annual meeting, which must take place no later than 31 October.
Shareholders require three weeks' notice for the AGM and advance sight of the accounting report, whereupon they will vote to accept or reject the accounts.
Meanwhile, Rangers chief executive Craig Mather said in a statement: "Interim results were published in March and the company is currently completing its annual audit and annual accounts will be published in the near future when this has been completed.
"Also, the company has, in addition to the annual audit, been through an intensive internal financial review process."