Car and coach firm increases profits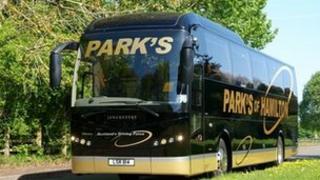 The luxury coach and motor trader, Park's of Hamilton, has announced a rise in profits.
The company made a pre-tax profit of £12.2m in the year to end of March compared with £10.5m last year.
Park's said it had achieved the increase "despite difficult trading conditions".
The group, which runs a number of businesses, employs more than 1,000 people.
Park's operates a fleet of luxury coaches as well as selling and servicing private and commercial vehicles.
During the year it bought Douglas Park (Properties) Limited which contributed profit before tax of £880,000.
The company increased turnover in both its Motor Division and its Coach Hiring Operations to a total of £347m.