Renfrewshire-based Amor Group sold to US technology giant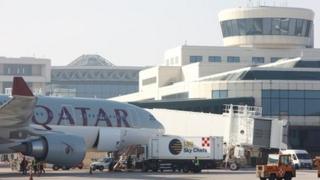 Amor Group, a Renfrewshire-based IT company with more than 600 staff, has been sold to Lockheed Martin, the American technology giant.
Amor handles information technology for energy firms, security, passenger handling at airports and procurement for the Scottish government.
One of its major investors has been the investment arm of Scottish Enterprise, which benefits from the sale.
However, the value of the deal has not been disclosed.
Ownership of Amor puts Lockheed Martin into Britain's top ten companies for IT services.
The company, headquartered in Inchinnan, was created in 2009 through a buy-out of Real Time and Pragma divisions from Sword Group, which remained a 22% shareholder.
In its annual results for 2012, Amor Group reported a fourth year of strong growth, with revenue up 27% to £57m, international revenues up 25% to £7.4m and trading profit up 22% to £8.1m.
Passenger tracking
It claimed to be on course for growth to £63m sales this year, and aimed to reach £250m in revenue with £40m profit by 2016.
The company's energy sector had £23m turnover, providing IT services to major North Sea operators.
It provides passenger tracking for Toronto Pearson Airport, with contracts also throughout Norway, in Milan, Geneva, Manchester and Dubai.
In a statement, Lockheed Martin said it intends to use Amor Group to extend its operations in the UK public sector, as well as energy and transport.
It will raise the American firm's Information Systems and Global Solutions business in Britain to more than 1000 staff, with plans to expand by 200 more by the end of this year.
John Innes, Amor Group chief executive, said the company had considered re-financing to meet its growth plans, giving its investors an opportunity to sell their stakes.
"The opportunity to become a part of Lockheed Martin is fantastic, not least because of the remarkable synergies between our cultures and ambitions.
"They offer a strong platform for growth in terms of talent, clients, geographic footprint, offerings and investment. It's a perfect fit at the right time."
'Important addition'
Stephen Ball, chief executive of Lockheed Martin UK, commented: "This transaction provides opportunities for both Amor Group and Lockheed Martin to grow through innovative IT technology and key international markets.
"Amor Group will be an important addition to our Information Systems & Global Solutions business."
The sale was welcomed by John Swinney, Scotland's finance secretary, who said the company's "growth reflects both the skills and expertise of the company's management and workforce and Scotland's ability to nurture and grow highly successful technology businesses".
"This acquisition by one of the world's largest aerospace and technology companies demonstrates Amor's international standing, Scotland's attractiveness to global investors and their confidence in Scotland's economy.
"Through our enterprise agencies we look forward to continued working with the company and supporting further growth."
Scottish Enterprise, which owns 4.6% of Amor after investing £2m in the company in 2009, welcomed the acquisition.
Chief Executive Lena Wilson said: "This deal secures for Scotland an operation that will continue to grow and provide more highly skilled jobs as it does so.
"It gives us some valuable inward investment by a major player in the global technology market that will help raise Scotland's profile within the industry worldwide.
"And it provides a healthy return for the public sector investment we made in the Amor Group which will in turn be reinvested in other Scottish businesses' growth."
Headquartered in Maryland, Lockheed Martin is a global security and aerospace company that employs about 116,000 people worldwide, with sales last year of $47.2bn.
Amor Group has seven offices in the UK with a presence in 15 additional countries.