Major Scottish airports enjoy strong summer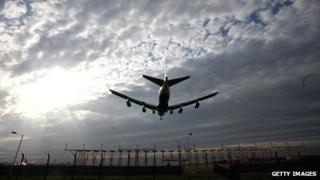 Major Scottish airports have reported a strong summer season, with passenger numbers continuing to grow.
Edinburgh saw its busiest summer on record, with more than one million people passing through its terminal last month - a 10.6% rise on last year.
Glasgow said 746,000 passengers used the airport in August - a 6% increase on 2012.
Passenger traffic at Aberdeen Airport also grew last month, rising by 3.5% to 312,200.
Edinburgh, which is Scotland's busiest airport, saw a total of 1,035,997 people pass through its terminal in August.
It was the airport's second busiest month on record, after reporting a figure of almost 1.1 million in July.
Domestic passenger and international passenger numbers increased by 10.5% and 10.6% respectively compared with the same period in 2012.
'Over the moon'
Edinburgh Airport chief executive Gordon Dewar said: "What a summer we've had.
"We were over the moon to see one million passengers in July, but to report the same record-breaking milestone in August is fantastic."
Almost 2.4 million people used Glasgow airport during the peak summer months of June, July and August.
Domestic and international traffic both grew by 6% during August, with several airlines including Virgin Atlantic, Emirates, KLM and Wizz Air all reporting an increase in demand.
The airport's operator said it also benefited from a series of major events in the city, including the World Pipe Band Championships and the World Street Dance Championships.
'Extremely busy'
Glasgow Airport managing director Amanda McMillan said: "We enjoyed an extremely busy summer, with more than 125,000 additional passengers using the airport during June, July and August compared to same period last year.
"Not only was it our busiest summer in five years, it was one of our best in terms of operational performance."
Aberdeen Airport's figures continued to grow, despite an 11.5% year-on-year fall in helicopter traffic.
The airport was affected by the Super Puma helicopter crash off Shetland last month which left four people dead and led to flights being suspended.
'Sad events'
The airport's commercial director, Carol Benzie, said: "As one of the worlds' busiest heliports, the sad events of 23 August impacted on the whole airport community and our thoughts go out to the families involved.
"We are working closely with all of the on-site helicopter operators to understand the challenges that they are going to be facing in coming weeks and months."
Both Glasgow and Aberdeen are owned by LHR Airports Limited, which used to be known as BAA.
Edinburgh Airport is owned and operated by Global Infrastructure Partners.