Ithaca Energy flow test lifts North Sea field hopes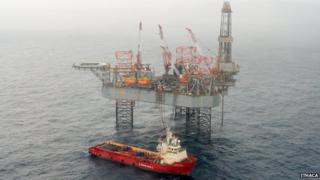 Oil and gas explorer Ithaca Energy's hopes of creating a major new production hub in the North Sea have been raised by a "highly successful" flow test on its first development well on the Stella field.
The company said the A1 well flowed at a maximum rate of 10,835 barrels a day.
Fluid samples also confirmed that the hydrocarbons were of "high quality".
Ithaca's Ensco 100 unit will now drill a second Stella development well from the same drilling centre location.
The maximum rate of 10,835 barrels of oil equivalent per day corresponds to nearly 6,500 barrels of oil and 26 million standard cubic feet of "liquids rich" gas.
'Highly successful'
Ithaca chief executive Iain McKendrick said: "This well and the highly successful test are outstanding results for the company.
"This is an enormous leap forward in de-risking of the Greater Stella Area development and the creation of a major new production hub in the UK Central North Sea.
"The well has accessed the reserves it was designed to recover and the test confirms the presence and extremely high quality and deliverability of the reservoir sands."
A1 is the first of four development wells that are to be drilled on the Stella field prior to the start-up of production.
Ithaca Energy operates and owns a majority stake in the field.
Shares in Ithaca rose by more than 18% on Wednesday morning following news of the first flow test results.