Record sales for Scotland's food and drink industry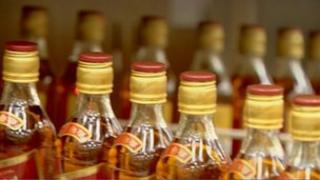 Scotland's food and drink industry has raised its long-term sales targets after achieving its goals six years early following a record 12 months.
Targets were set by the industry in 2009 to reach £12.5bn by 2017.
But newly-released figures showed record turnover of more than £13bn in 2011.
Industry body Scotland Food and Drink has set a new goal of £16.5bn for 2017, which includes an exports target of £7.1bn.
The news follows a Bank of Scotland report last week which predicted that more than 5,600 extra jobs could be created in Scotland's booming food and drink sector by 2018 as companies look to expand.
Rural Affairs Secretary Richard Lochhead, who announced the latest figures during a visit to an Edinburgh cheesemonger, described Scotland's food and drink industry as "a fantastic success story".
"I have no doubt that it has smashed its turnover target six years early because of the high quality products and dedication of those working in the sector," he said.
"Today's figures - and last week's Bank of Scotland prediction of thousands of new jobs being created in the sector - demonstrate the strength of Scottish food and drink as an economic driver for Scotland."
'Tremendous result'
Scotland Food and Drink chief executive James Withers called the record achievement of £13bn in sales "a tremendous result".
He said: "After a period of flat growth up to 2007, we believed we could take the industry to a new level.
"The industry has worked collaboratively together to do this and government has worked in partnership with us to deliver.
"It is particularly appropriate that we announce this success and launch a new target during Scottish Food & Drink Fortnight."
He added: "We're now committed to push on from here and believe we have the potential to reach £16.5bn in turnover by 2017.
"Achieving this ambition means both building further business across the UK and, crucially, transforming our export activity and breaking into new markets."