Rics says 'positivity' returning to housing market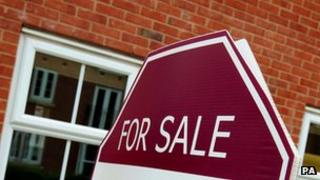 More Scots are putting their homes onto the property market as a result of rising prices and buyer demand, according to a new report.
The Royal Institution of Chartered Surveyors (Rics) said "positivity" was starting to return across Scotland.
In August, 48% more surveyors reported increases rather than decreases in new instructions - up from 24% in July.
Rics said it appeared people who had been waiting for the right time to sell were choosing to do so now.
However, although homes supply jumped last month, it did not rise sharply enough to keep pace with demand.
The number of would-be buyers increased in August, with a net balance of 73% more respondents reporting growing numbers of property inquiries from potential buyers.
Looking ahead, a net balance of 43% more surveyors said they expected further price growth in Scotland over the next three months as the market continued to find its feet.
Prices 'edging up'
Rics Scotland director Sarah Speirs said: "We are starting to see more people return to the housing market.
"There are buyers out there and prices are edging upwards.
"It is important, however, that prices do not rise to such an extent that they become unaffordable."
She added: "For the market to work properly, it's vital that property is both accessible and affordable, and we'll be monitoring the situation very carefully as the housing sector continues to recover."