Rosebank Distillery receives major cash boost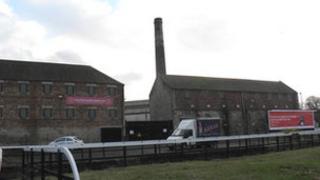 Historic Scotland has given £0.5m towards the preservation of the former Rosebank Distillery in Falkirk.
The Arran Brewery, which owns the site, plans to turn it into a craft brewery, bottling hall and "micro distillery".
The company said the new brewery will be called the Forth and Clyde Brewery Falkirk, while the micro distillery will be named Camelon Distillery.
Rosebank Distillery, which dates back to 1817, was shut down by former owner Diageo in 1993.
At its peak it was distilling 123,000 gallons (319,000 litres) of whisky.
Bottles of the triple distilled single malt can still be bought today for more than £200.
Arran Brewery said it was working with Scottish Canals, which previously owned the site, and Falkirk Council to redevelop the former distillery.
Managing director of the Arran Brewery, Gerald Michaluk said: "While we want to maintain the historic character of the site and open it to the public, at the same time we need to secure its on-going economic success by running a profitable business there."
Mr Michaluk said that the project still faced significant challenges because of the nature of the site.
A spokeswoman for Falkirk Council said the authority was working closely with Mr Michaluk to ensure the future of the project.