Scottish angling body urges action over sea lice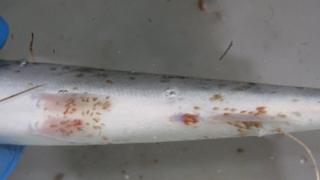 An anglers' body has urged ministers and salmon producers to take action over "appalling" sea lice numbers at some fish farms.
The Salmon and Trout Association (S&TA) made the call after analysing industry data on the natural parasite.
It said figures showed sea lice numbers at three key fish-farming areas exceeded the industry's own limits every month this year to June.
Salmon producers described the S&TA move as a bid "to rewrite a good news story".
The Scottish government said it was already taking action to improve sea lice control on marine fish farms.
S&TA has raised concerns in the past about levels of sea lice at Scottish salmon farms, claiming the parasite could potentially cause huge damage to wild fish in their vicinity.
Sea lice reports
In its latest challenge, S&TA said it had based its claims on the first two quarterly sea lice reports released by the Scottish Salmon Producers Organisation (SSPO).
It found that in June 2013, more than one-third of salmon farms - 47 - on the Scottish mainland and in the Hebrides were in areas where average sea lice numbers exceeded the industry's own limits.
In each of the previous five months, at least one-quarter (35 farms) were in this category.
S&TA Scotland called on the Scottish government to introduce statutory controls on on-farm sea lice numbers to protect juvenile wild fish from "picking up lethal infestations in the sea lochs".
Chairman Hugh Campbell Adamson said: "The SSPO reports confirm that, in at least three key fish-farming regions of Scotland, sea lice numbers are out of control and consequently the fish farm companies are failing to protect wild fish from the devastating effects of the release of vast numbers of juvenile parasitic sea lice into west coast sea lochs."
'Disappointing'
Responding to S&TA's call, SSPO chief executive Scott Landsburgh said: "It is disappointing that the S&TA has, yet again, chosen to reanalyse published industry information in an attempt to rewrite a good news story.
"Scottish salmon farmers have responded positively to calls for greater openness and transparency, and detailed information has been available on the SSPO's website for over 18 months now."
He added: "In contrast, the wild salmon fishing industry holds vast amounts of information on things like catches and angling effort that could be used constructively to inform the debate.
"Yet despite repeated requests for information that parallels what the salmon farmers are publishing, no efforts have been made by them to share this for the common good."
The Scottish government said it operated "a robust, internationally recognised regulatory system" which would be enhanced by the Aquaculture & Fisheries (Scotland) Act 2013 passed by parliament in June.
A spokeswoman said: "We are already taking action to improve sea lice control on marine fish farms including measures to require all operators to enter into Farm Management Agreements/Statements which set out arrangements for managing fish health and parasites, and enhanced powers of sampling.
"In addition, the Scottish government has provided £500,000 funding, to be matched by the aquaculture industry, for research which includes a study to explore any impact of sea lice from fish farming in Scotland.
"We welcome the second voluntary sea lice data publication scheme from the Scottish Salmon Producers Organisation (SSPO), based on recognised wild fish catchments, as a positive step forward."
She added: "Ministers have committed to keep the new publication arrangements under review and retain powers to legislate on data release if these voluntary arrangements are not operating as expected."