Scottish Independence: what does it mean for the finance sector?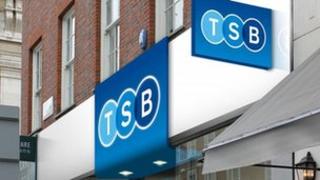 It's five years since catastrophe hit Scotland's banks. And as the TSB, or Trustee Savings Bank, is re-born next week - its 203-year roots in Ruthwell, Dumfriesshire - the reverberations of the meltdown continue.
Meanwhile, we're nearly one year from the independence referendum. And as one of the most highly regulated sectors of the economy, finance is keeping a close eye on how it might be affected.
So for this week's Business Scotland programme, I've been finding out about the state of the finance sector, as it's trying to find out about the future state... of the state.
There are different views of how the sector has been affected over those five years. The big banks are clearly still working through their problems, under state ownership.
And don't forget that the smaller lenders - Clydesdale Bank and the late Dunfermline Building Society - also ran into big problems. The former needed a bailout by its Australian parent, the other by the Nationwide.
But the fund managers remain in, more or less, rude health. And while Aegon has been through a very unhappy time, others in the pensions and life sector are doing rather well.
Some, led by the fund managers, are already so international that they may barely notice the impact of a new national frontier being created at the Tweed. Or they could easily move their operations.
The big banks are at the mercy of their big shareholder, the UK government.
Customer comfort
The bigger challenge, I've been told, is to a company like Standard Life, deeply rooted in Edinburgh, with 90% of its UK customers south of the border.
And David Nish, its chief executive, has given me some insights on his thinking. He's getting questions asked by customers and shareholders.
And his focus has been to do what's best for those customers. They are the people he wants to reassure: "We want to give comfort to our customers that we're looking after them".
That's all the more important when his rivals can raise doubts among customers and potential customers in England, Wales and Northern Ireland about which country they wish their pension to be controlled from.
David Nish is not saying if he might move his company out of Edinburgh to be nearer most of his customers.
Nor is Antonio Horta-Osario, chief executive of Lloyds Banking Group. It's registered in Scotland, and he was asked this week by the BBC's Robert Peston, whether he might take that registration out of Scotland.
"We are monitoring what the Scottish people wish to do, and we'll make a plan accordingly," said the Lloyds chief. "But it's too soon to mention anything about that, because we haven't completed our analysis."
He expressed pride in having the 'Bank of Scotland' brand, says the question of how to respond to independence is an interesting one, and it's still being analysed.
Questions without answers
As with Sir Mike Rake, president of the CBI, whom I interviewed this week about independence, everyone is waiting to see what Alex Salmond produces in his white paper.
But not everyone has high expectations it will provide answers to the questions they've got.
Owen Kelly is chief executive of Scottish Financial Enterprise, which speaks for the sector and which is advising its counterparts in the City of London about the implications of next year's referendum decision.
He's been putting questions to the Scottish government about its plans for continuing to use sterling as Scotland's currency, about how finance would be regulated separately, access to the market in the rest of the UK, and about its accession to the European Union.
And he's reached the conclusion that he won't be getting answers, because these questions cannot be answered ahead of a referendum.
They depend on the negotiating positions and outcomes from talks with Whitehall about a deal on currency, and talks with European partners about membership of the EU.
"And we don't know - how could we? - who would be elected to government in an independent Scotland, so there is necessarily, a heavy does of contingency around answering those questions."
He also raises the question about double taxation agreements - the bilateral treaties Britain has with most other countries of the world, ensuring that companies operating across borders are fairly treated.
It's not in Whitehall's gift to pass them on. Each would have to be signed anew, and some signatories might want different conditions, aware that Scotland's negotiating strengths may be different from those of the UK. A new double taxation treaty would be required with the rest of the UK.
Ray Perman, a former chief executive of Scottish Financial Enterprise who recently wrote 'Hubris', a book about the rise and fall of Halifax Bank of Scotland, raises another question; will the opinions of Scotland's financiers make much difference?
Some of their predecessors got burned in the 1990s when they opposed devolution, since then finding out it was far less harmful than they feared - if it was harmful at all.
There is limited opportunity for them to lobby government on its independence plan. And Ray Perman points out there's not much opportunity to sway public opinion.
After all, the opinions of senior bankers don't carry quite the respect they once did.
• You can hear Business Scotland at 10:00 on Sunday 8 September and on iPlayer and by free download after that.
http://www.bbc.co.uk/podcasts/series/scotbizpromo