Economic recovery 'quickening', Bank of Scotland says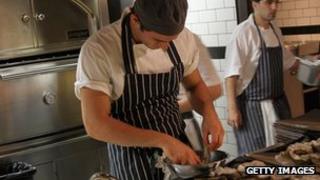 The pace of the economic recovery in Scotland is "clearly quickening", according to Bank of Scotland chief economist Donald MacRae.
His comment came as the bank's latest monthly monitor of purchasing managers showed record growth in business activity and new work.
Its PMI survey also found employment rising in August at its fastest rate since 2007.
However, the pace of growth in Scotland remained below the UK-wide average.
The survey builds on other recent evidence of a recovery in the economy north of the border.
Last month, Office for National Statistics data showed the number of Scots in work hit a four-year high between April and June, while a report by accountants EY forecast exports of Scottish goods would grow faster than the rest of the UK over the next four years.
'Improved confidence'
Bank of Scotland's latest PMI registered a survey-record high of 58.3 last month, up from July's reading of 56.7. Any reading above 50 indicates expansion.
Services firms led the upturn, with the most marked month-on-month increase in business activity since May 2007.
Improved market confidence was a key factor driving the upturn, according to survey panel members.
The latest data also showed a survey-record increase in new business, with Scottish manufacturers recording the most marked rise in new export orders since May 2012.
Anecdotal evidence from respondents highlighted emerging markets as key growth areas in August, with panellists reporting increased orders from clients in Brazil, China and Saudi Arabia.
New business growth at services firms north of the border continued to accelerate last month, reaching its fastest pace since March 1998.
Employment up
Meanwhile, employment rose for the ninth consecutive month and to the greatest extent since June 2007.
Across the UK, only the West Midlands recorded a more marked increase in staffing numbers than Scotland during the month.
Despite the additional staffing capacity, August saw a further accumulation of outstanding business - albeit the weakest in a three-month sequence of rising backlogs.
The rate of input price inflation in Scotland's private sector economy was unchanged for a second straight month, while output prices rose only marginally on average.
Mr MacRae said: "August's PMI showed the economic recovery continuing in Scotland.
"The latest month's results set two records for the survey, showing a sharp increase in business activity and new work accompanied by a strong rise in employment.
"Particularly welcome is the rise in new export orders to the highest level since May of last year."
He added: "The pace of the economic recovery in Scotland is clearly quickening but would be further enhanced by firms increasing investment."