Survey forecasts food and drink jobs boost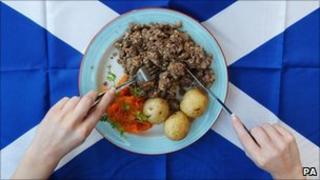 More than 5,600 extra jobs could be created in Scotland's booming food and drink sector by 2018 as companies look to expand, a survey has suggested.
Research by Bank of Scotland indicated firms will be ramping up investment to target new export markets.
It said the sector could "significantly exceed" an industry target of achieving annual turnover of £12.5bn by 2017.
More than 100 firms with an estimated combined turnover of £6bn were surveyed.
Two-thirds said they expected to increase their workforce in the next five years.
Of the companies surveyed, respondents were confident of at least new 940 jobs between them over that period.
The bank said that if its findings were replicated across the wider food and drink production sector, that could mean more than 5,600 additional jobs would be created.
Export markets
More than 40% of firms said they were still planning on expanding their export activities.
The survey also suggested there had been a significant shift in locations where Scottish food and drink companies were setting their international sights.
Almost two-thirds of companies named the Far East/Asia as their key area of focus, replacing Western Europe at the top of the list of target markets.
The rapid emergence of countries such as Brazil was also underlined with a 20% increase on last year's survey in the proportion of companies looking at South America.
Alasdair Gardner, managing director of commercial banking at Bank of Scotland, said: "Scotland's food and drink sector already makes a tremendous contribution to Scotland's economy and these results show that will only increase over the coming of years.
"The creation of more than 5,600 jobs will be a very welcome boost to communities across Scotland as economic recovery continues."
He added: "The reality is that if this level of growth continues we will see levels of growth in the food and drink industry that could soon be alongside oil and gas on the export market."
Scotland Food and Drink chief executive James Withers said the outlook for the industry had never been better.
He added: "The food and drink industry has been Scotland's best performing domestic sector in the past five years and its fastest growing export sector.
"Ambitious sales and export targets are in place for 2017, but the rapid progress so far means we are having to upscale our ambitions already."
The Scottish government's Rural Affairs Secretary Richard Lochhead the survey was a "wonderful show of support" for Scotland's food and drink industry and a sign that it was a strong economic driver.
He said: "A combination of iconic products, strong global brands, innovation and our excellent provenance credentials ensure that it continues to go from strength to strength."