Skyscanner buys hotel search firm Fogg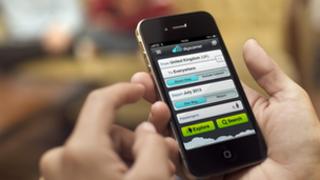 Travel search firm Skyscanner is to take its hotel search service in-house after acquiring Barcelona-based business Fogg for an undisclosed sum.
The Edinburgh-based company will integrate Fogg's internet hotel search into its site by the end of the year.
Its current hotel offering is provided through accommodation meta-search firm HotelsCombined.
Skyscanner said the move to bring the service in-house was "a significant step" in its expansion plans.
Fogg's five full-time staff will be based in a new Skyscanner office in Barcelona.
The hotel search service, which is currently available in English and Spanish, will be expanded to cover Skyscanner's markets around the globe in 30 languages.
It also plans to take on an unspecified number of new staff in engineering and other disciplines.
Skyscanner recently built on its original flight search product by launching its own car rental search engine in 200 markets around the world.
'Big step'
Chief executive Gareth Williams said: "Our users are going to love hotel search as a result of this acquisition.
"We built the best flight search product anywhere in the world.
"We then expanded that offering into car rental. And today we've taken a big step towards completing the picture in the space of hotel search."
Skyscanner's acquisition comes at a time when it is also moving rapidly into the Americas, including the US, Canada and Latin American markets.
The company has just opened a Miami hub office for the Americas region and is working to build a healthy business in the US and other Americas markets.
Skyscanner has seen rapid growth in recent times, with more than 25 million people downloading its flight search app.
The business currently employs 250 staff across five offices in Edinburgh, Glasgow, Singapore, Beijing and Miami.
Last month it announced plans to recruit 250 more people over the next year to support its global expansion plans.