Scotch whisky industry reports export growth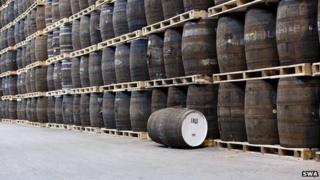 Scotch whisky exports grew strongly in the first half of this year as demand rose in both mature and emerging markets, according to industry figures.
The Scotch Whisky Association (SWA) said the value of exports rose by 11% to almost £2bn, while the volume of shipments was up 9% on last year to more than 560 million bottles.
There was strong growth in mature markets such as the US and France.
Demand also grew in emerging economies such as South Africa and South America.
The SWA said the latest figures reflected growing demand from a wide range of markets following a slowdown during the same period last year.
On an annualised basis, the value of exports rose by 6% to £4.5bn in the 12 months up to the end of June.
China decline
In the first half of this year, the value of direct exports to China declined by 20% to £25m.
The fall was partly offset by an increase in shipments to Singapore, which acts as a distribution hub for Asian countries such as Taiwan, South Korea and China.
The SWA said the fall in exports to China reflected "consolidation and more challenging current market conditions" in the Asian country.
The US remained the biggest market by value, increasing by 29% on the same period last year to reach £391m.
It was followed by France which saw exports grow by 6% to £199m and Singapore which jumped by 19% to £174m.
Direct exports to Poland reached £20m and are now almost 10 times greater than in 2004 when the country joined the European Union.
Exports to South Africa rose by 19%, to £65m, making it the seventh biggest overseas market for Scotch whisky.
There was rapid growth across South and Central America, with Mexico seeing a 67% increase in exports, to £54m. Brazil recorded growth of 42% to reach £49m.
Industry 'confident'
SWA chief executive Gavin Hewitt said: "Demand for Scotch whisky from mature and emerging markets around the world grew strongly in the first half of this year after a slow start in 2012.
"While these figures provide a snapshot of what is happening with exports, the industry is confident this expansion will continue.
"Significant new investment in the industry in Scotland by Scotch Whisky producers reflects the belief that growth will be sustainable."