Stirling insulation firm Superglass seeks finance chief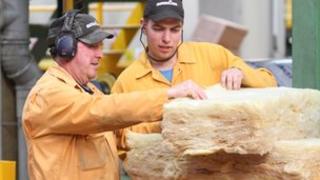 Insulation producer Superglass has announced it is looking for a new chief finance officer following the unexpected resignation of Allan Clow after a year in the job.
The Stirling-based firm said Mr Clow was resigning "for personal reasons".
He will continue in the job until a date of departure is confirmed.
The resignation follows a difficult period for the firm, which in May raised £12.9m through a share placing as part of a major refinancing plan.
The move came after the company struck a deal in principle with its bankers in a bid to avoid becoming insolvent.
In a trading update confirming Mr Clow's resignation, Superglass said: "A search process for a new chief finance officer is under way and, to ensure a smooth transition, Allan will continue to be employed on a full-time basis until his effective date of departure is confirmed.
"The board would like to thank Allan for his valuable contribution to the business and his support in completing the successful capital restructuring earlier this year.
"The board wishes him well for the future."
The company also announced the appointment of Declan Billington as a non-executive director with immediate effect.
Mr Billington, 48, is chief executive of John Thompson and Sons Ltd, a retailer and manufacturer of animal feeds based in Northern Ireland.
Sales 'volatile'
In the trading update, Superglass said its performance for the year to the end of August was in line with market forecasts, while its net cash balance of £5.5m was "comfortably ahead" of expectations.
However, it reported that sales had been volatile throughout the summer.
Superglass also said overall market demand continued to be depressed, with uptake of insulation measures under the UK government's Green Deal initiative remaining "very low".
The company added: "Superglass has yet to see any sustained increase in demand from other primary market channels.
"The resultant impact on volume continues to put pressure on margins."