Campaign to highlight new recycling rules for businesses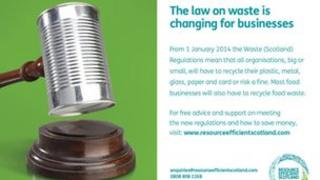 Scottish businesses are being encouraged to increase their recycling before new regulations come into force.
From January 2014, all organisations will have to recycle their plastic, metal, glass, paper and food or risk a fine.
The Scottish government has said it wants 70% of waste to be recycled by 2025.
Zero Waste Scotland has launched an awareness campaign to help firms with the transition.
The Waste (Scotland) Regulations were passed by the Scottish Parliament in May 2012.
It is estimated that Scotland is currently paying £95m in landfill taxes to throw away materials - such as paper, glass, metal, plastic, card and food - valued at £97m.
Quality materials
Zero Waste Scotland's campaign is aimed at helping organisations think about how they recycle and the possible financial savings that could be made.
It will highlight examples of businesses already finding innovative ways to reduce waste.
One pub in Aberdeen has introduced a 1,000-strong wormery to digest unwanted food, and in Edinburgh a restaurant has managed to get its recycling up to 95%.
Iain Gulland, director of Zero Waste Scotland, said: "It's great to see that businesses are already working to become ready for the introduction of the regulations.
"The regulations are designed to enable organisations to further reduce waste, enable the recycling of quality materials, and be more resource efficient - all offering the potential for cost savings and wider economic opportunities.
"We have a range of support available to help over the coming months and would ask those needing help to get in touch."
The information campaign runs throughout September and October.