Engineering orders in Scotland 'highest since 2011'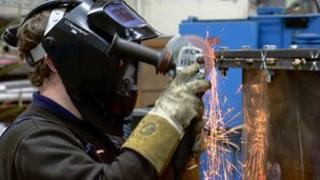 Engineering orders in Scotland are at their highest level since the beginning of 2011, according to a survey.
The Scottish Engineering quarterly review suggests forecasts for orders, as well as employee numbers, over the next three months are also positive.
Recovery in the UK was highlighted.
Chief executive Bryan Buchan said: "The positive message reflects the views expressed by the majority of our member companies who attended a series of meetings around the country."
Mr Buchan explained: "Firstly, there is some evidence of recovery within the UK and we are benefiting from that.
"We are also seeing a significant number of companies successfully trading outwith the Eurozone."
Staffing levels
Almost half (45%) of members who contributed to Scottish Engineering's quarterly review reported an increase in orders, 34% said they stayed the same and 21% reported a drop.
Meanwhile 38% said output was up, 43% said it had stayed the same and 19% reported a decrease.
The report said: "The improvements in order intake and output volumes which were enjoyed last quarter have improved considerably in this review.
"Orders have reached levels last recorded early in 2011 and output volume continue to rise.
"The electronic sector has seen a significant improvement in orders."
The organisation has about 400 member companies covering all sectors of the manufacturing industry.
A quarter (25%) of members reported a rise in staffing levels, 57% said employee numbers had stayed the same and 18% said they had gone down.