Homemovers in Scotland face biggest prices increase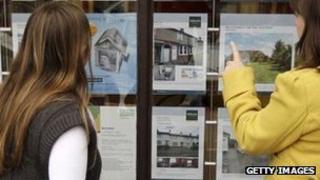 Homeowners in Scotland who are moving to a new property have seen the biggest increase in prices in the UK over the last decade, a new study has found.
Figures from the Bank of Scotland showed the average price paid by those moving home had increased by 54%.
So called "second steppers" paid an average of £170, 534 in the year ending June 2013, compared with £110, 952 in 2003.
The rise in Scotland is greater than anywhere else in the UK.
The latest figures were revealed in the Bank of Scotland Homemovers Review, which found it had got slightly more affordable for people to move up the housing ladder to their second home in the last year.
But the situation for homemovers was still much harder than it was a decade ago.
Housing affordability
In June this year the average cost of a typical second home, minus the amount of equity people have in their current property, was 3.9 times gross annual average earnings.
This was a slight improvement from June last year, when it was four times average earnings, but it showed a marked decline in affordability when compared to 2003, when the ratio stood at 2.6 times average earnings.
Typically, those who would be looking to move to their second home would have been first-time buyers in 2008 and would have on average an estimated #13,985 of equity in their current property - about 10% of the average cost of semi-detached house.
But in 2007 those moving on from their first home typically had equity worth almost half (48%) the value of their new property.
Nitesh Patel, housing economist at the Bank of Scotland, said: "Housing affordability for the typical second stepper in Scotland has marginally improved in the past year.
"Nonetheless, there are many potential second steppers who are still in their first home which they bought in the run-up to, and at, the peak in house prices in 2008.
"Many of these homeowners may still be unable to move due to having either very low, or negative, equity in their homes."
She added: "The lack of equity for many homeowners in their existing home largely explains why the number of Scottish homemovers in the first six months of 2013 rose by only 2% compared with a year earlier; while the number of first-time buyers grew by 22 % over the period."
In the first half of this year there were 13,600 homeowners who bought a new house and 11,000 first-time buyers.
Those moving home made up 56% of the total number of house buyers - the smallest proportion for 12 years.
This was said to be a result of the difficulties people can face in getting mortgages, as well as the tough economic conditions.