Stagecoach on financial track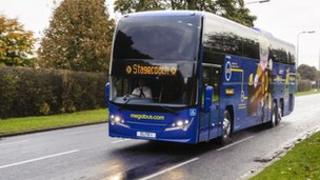 Perth-based Stagecoach group has unveiled strong growth in its UK rail division and North American operations, putting it on track to hit financial targets.
In the twelve weeks to 21 July, there was a 6.5% increase in sales in its UK rail division.
Its operations in the US recorded a 5.7% growth is sales and is "on track to deliver a significant step up in its operating profit".
The firm said trading was "good".
Stagecoach said its Megabus service in the US was the fastest growing part of the group, increasing revenue by 21.8% in the three months to the end of July.
The British bus operations saw a 4.5% rise in sales while the London division reported a small fall - although it said it was set to reverse that in the second half of the financial year as it benefited from new contracts.