Scottish new home numbers fall 14%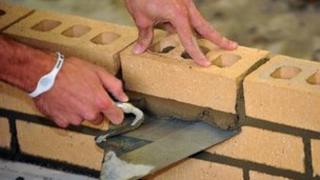 The number of homes built in Scotland has dropped by 14% in the past year.
Only 14,629 homes were built or restored, due to a drop in private, housing association and council house construction.
Of those, one in six was built in Edinburgh or Glasgow, while one in 12 was in Aberdeenshire.
The construction industry called on the Scottish government to take action to stimulate the market. Ministers blamed economic conditions for the fall.
Completions of affordable homes in Scotland fell by 13% last year, the third consecutive drop since they peaked in 2009/10.
Fallen sharply
According to the Scottish government figures, this was despite nearly 185,000 applications for homes being held by councils.
More than 25,000 new homes were completed each year between 2003 and 2008, but the number has fallen sharply since the start of the downturn.
The number of private new build homes completed has fallen from a peak of 22,444 in 2004/05 to only 9,594 last year.
Council house building, which resumed in 2006/07, had risen to 1,114 in 2011/12 but fell last year to 965.
At the same time, the number of council house sales to tenants fell by 9% to 1,020.
The number of new-built housing association homes peaked at 5,576 in 2009/10, as the government injected money into the economy in response to recession.
However, following cuts it fell to 4,776 in 2011/12 and to 3,244 last year - meaning that one housing association home was built for every three private ones during 2012/13.
Of the 14,629 homes included in the figures for last year, 826 were either rehabilitation or conversions.
Waiting lists
Philip Hogg, chief executive of Homes for Scotland, said the country was "mired in a housing crisis".
"It is estimated that 465,000 new homes are needed in Scotland by 2035 to meet demand," he said.
"However, the build rate announced today points to a shortfall of around 160,000 by then.
"With this equal to the number of people currently already on housing waiting lists, such an outcome would have severe long-term social and economic consequences."
Mr Hogg said the English property market was showing signs of picking up due to government support.
"We need to see the Scottish government's promised £120m shared equity scheme launched as soon as possible, and proposals to increase regulation and cost which threaten to further depress housing supply be reconsidered," he added.
However, Housing Minister Margaret Burgess blamed "challenging economic conditions".
Property ladder
She said: "This is due to world economic conditions exacerbated by Westminster's drastic cuts to our capital budget.
"Despite this, the Scottish government remains committed to stimulating growth and delivering more affordable homes for people across Scotland."
She added: "We are also helping households get onto or move up the property ladder through our shared equity schemes and our support for the MI New Home scheme."
Graeme Brown, director of housing charity Shelter Scotland, said: "There is no good news in these figures for anyone in Scotland who is waiting for a home of their own.
"The figures are stark and show that even with recent additional cash injections Scotland simply isn't building enough new homes."