Alloa brewer Williams Bros lands Sainsbury's deal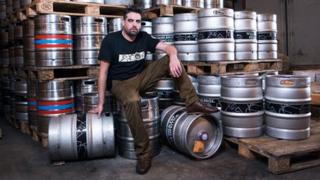 An Alloa brewer has secured a deal with Sainsbury's, which will see 11 of its beers stocked by the supermarket.
An additional six beers from Williams Brothers will be added to the five already sold by Sainsbury's.
A further three will be part of the supermarket's British beer promotion which launches in September.
The Alloa company said the agreement makes it Scotland's "most prolific" craft brewery. It hopes for total turnover exceeding £5m in 2014.
Director of Sales Richard McLelland said: "The Sainsbury's listing is part of unprecedented success in the grocery sector and cements Williams Brothers Brewing Co. as the most successful craft brewery in this channel.
"In addition to this, our expansion in key export markets, our continued exponential growth across the UK's 'on trade' craft keg scene and the use of the brewery as a 'Scottish hub' for craft beer - bottling for the likes of Fyne Ales, Thistly Cross Cider and Harviestoun (Specialist Beers) - means I am confident that we will cruise past £5m in 2014."
Williams Brothers has started an expansion project valued at more than £1m which will create nine new jobs.