Webhelp TSC to create 70 jobs in Glasgow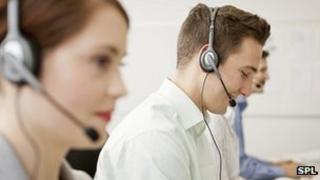 Call centre firm Webhelp TSC is to create 70 jobs in Glasgow under a new pre-employment training initiative.
The posts will go to young people who have struggled to get their first jobs.
Those who join Webhelp's Customer Experience Academy will undertake a five-week work skills course, followed by a job interview at the firm.
Webhelp said it was aimed at jobseekers who "lack the necessary communicative knowledge to pass the standard entrance level of most employers".
Those who are hired will be employed full-time by Webhelp and supported through a 12-month modern apprenticeship.
Webhelp TSC's UK headquarters are in Falkirk and it runs call centres in several Scottish locations, including Dunoon, Glasgow, Greenock, Kilmarnock and Rothesay.
Interpersonal skills
Webhelp chief executive David Turner said: "We launched the Customer Experience Academy as a pilot project a few months ago and now have 137 people in employment with us who have been through this process.
"These team members are now thriving in their employment with us at Webhelp TSC.
"We noted that there were a growing number of candidates who didn't quite have the interpersonal skills to pass our recruitment tests. But they were only just failing.
"We felt that it wouldn't take much to get them over the line and once they were in employment, they would blossom."
Mr Turner added: "The pilot scheme proved this to be the case and we have decided to roll the Customer Experience Academy out across our estate, including 70 places in Glasgow."
Youth initiative
Webhelp's announcement came as the Scottish government launched a new youth employment initiative.
The Make Young People Your Business Week aims to persuade businesses of the benefits of taking on young employees.
Youth Employment Minister Angela Constance said: "Webhelp TSC clearly need no convincing that young people are the future of their business, but in order to support more young people into jobs, we need more employers to come on board with the idea that the younger generation can aid their economic growth."