SSE awards £39m Beauly to Mossford power line contract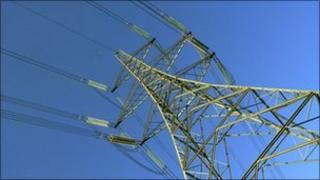 Scottish Hydro Electric Transmission has awarded contracts worth £39m for a replacement overhead power line in the Highlands.
The new line will largely follow the 16 mile (26km) route of the existing line from Beauly to Mossford, near Garve.
The project will involve the removal of 177 old pylons, and replace them with 97 new towers.
Scottish Hydro's parent company, SSE, said the work would strengthen the transmission network.
It also said it would create additional capacity to accommodate renewable generation.
SSE director of transmission David Gardner said: "The existing tower lines have been in place for around 60 years and have served the area well, but with more renewable generators wishing to connect to the grid, it is now time for an upgrade.
"By placing these contracts now, we are aiming for completion of the line by the end of 2015 with further reinstatement works being completed in 2016.
"We will continue to work with the communities in the area to ensure disruption is kept to a minimum."
The overhead line work has been awarded to Balfour Beatty and the cable contract to J Murphy and Son.
SSE said it was in the process of awarding forestry and civil contracts to local firms.