Collapsed soft drinks firm Get Juiced up for sale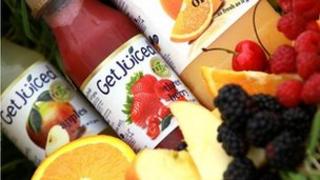 Soft drinks maker Get Juiced has been put up for sale, after going into liquidation earlier this month.
The Stirling-based smoothie and fruit juice producer was in a major growth phase when it ran out of cash.
Provisional liquidator Johnston Carmichael said interest had been expressed in the company's brand and tangible assets.
Glasgow-based intellectual property specialist Metis Partners has been brought in to handle the sale.
The assets up for sale include a complete production line.
Johnston Carmichael said it had already been approached by an unnamed equity firm interested in funding an acquisition.
Get Juiced had established a presence in major supermarkets and some of Scotland's most exclusive hotels before going into liquidation.
Microwave technology
The company used microwave technology developed by scientists at Queen Margaret University to kill bacteria in the juice.
It claimed to extend shelf life to more than six weeks with no loss of flavour or nutritional composition.
Metis Partners chief executive Stephen Robertson said: "Get Juiced is a terrific brand with an enormous potential in a very lucrative market.
"I am sure its sale will attract considerable UK and international interest."
The provisional liquidator has set a deadline of Friday for offers or notes of interest.